YOUR DOG!
A faithful heart, a faithful look,
that's what we still have on earth-
because in pain - not only in luck
a being sticks to you.

In happiness and grief,
at any time
one is faithful to you

He thanks you for every single praise,
and looks at you in love.
He talks to you with his eyes
because he is unable to speak.

Recognize the worth
before it is too late,
be good to your dog--
because when once your dog leaves,
who will then keep your faith?

If your dog is all your love
That is no sin.
The dog is faithful in hurricane,
human not even wind.
---author unknown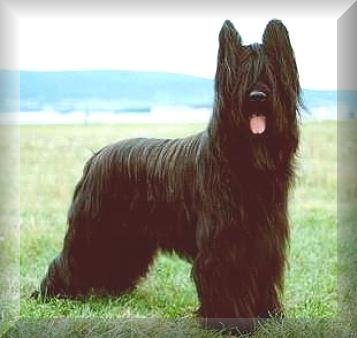 CH. Camil Kasisterit
"Camil"
BORN: December 15, 1992
DIED: June 26, 1999
Dear "Camil", you still should be here!
You were too young to leave.
Your loss is so hard and still unbelievable.
Tears of pain follow you, and you left a hole in many hearts.
Unfortunately you did not have the chance to spread your soul,
your character, your love.................. to other Briards.
Mother Nature did not cooperate.
So now we can only stick to the wonderful memories we have.
We will never forget what you meant to us,
your breeder, your friends, and the ones you owned miss you deeply, dear "Camil".

Monika Miksikova and Gerda & Hans Friedl
as well as so many others.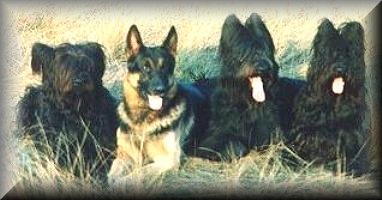 "Marko"
BORN: March 4, 1988
DIED: September 15, 1995
"Marko", you came to our home after we had been dogless for more than 8 years.
You were the step to the beginning of the dog mania in this house.
We did not care about
the Viennense Police saying that you were lacking of courage.
Even though you were born and raised there -
you were deeply loved fom the moment of our first sight.
Soon we found out that with your age of only 15 months you were a rather protective dog,
full of courage and more than brave.
The real reason for your need of rescue was your bad dysplastic hips.
We went through hip surgery with you at the age of 18 months -
you were so very patient at that time....
but if only you could have been with us longer
but you had to leave at the age of 7.5.

"Marko", we want to thank you for your honest love,
for your faithful friendship,
for having helped educate our first two Briards,
"Sandor" and "little Arwa",
for having been the very best companion to our rescue Briard "mother Arwa" until the end of your days.
Thanks for your patience with our first litter of Briards.
They were so furry and teased you so very much.
Still you never forgot yourself.
Thanks for your protection of this house and for protecting me when needed.
Thanks for your courage and thanks for having been such a wonderful and gorgeous obedience dog.
You made NO mistakes.
Even though some people won't believe it:
you were the perfect dog for us.
Thanks for trusting us until the last minutes of your life -
your calmness in the last seconds lying in my arms makes me know that you were grateful for your relief from pain.

THANKS FOR JUST EVERYTHING -
you made our lives happy each and every day.

"Marko", we still miss you deeply
although it's more than 4 years now that you had to leave for the "Rainbow Bridge".
Still there are tears for you, dearest friend.
The hole that you left in our hearts will never be completely mended,
you took a part of my heart with you.

"Marko" we will never stop loving you
till the moment we meet again
at the entrance to the "Rainbow Bridge".
-----Gerda & Hans Friedl

Chivas Regal de la Maison du Garde-Barriere
"Chivas"
BORN: March 3, 1998
DIED: August 25, 1998
Little "Chivas", we still can't believe that you are gone,
your life was way too short -
not having reached 6 months of age when you were called to the "Rainbow Bridge"
completely unexpectedly, from one second to the other.
Although in this short time you had the most wonderful life in a loving home,
we can't understand that you are gone.
We all miss your happiness, your activities, your wagging tail,
your eyes full of love, this special twinkle in your eyes when you had fun............

I still remember when you were born into my hands,
you were the first born puppy of this litter,
the beginning of a wonderful time through 8 weeks with a bunch of little Briards here in this house.

"Chivas", thanks for all the wonderful memories - they are wrapped in our hearts and will never disappear.
You are lovingly missed by your breeder and the ones you owned for a much too short of a time.

One day we meet again.......
Gerda & Hans Friedl and Edith & Michael Weitlaner

A LITTLE DOG ANGEL
High up in the courts of heaven today
a little dog angel waits:
with the other angels he will not play,
but he sits alone at the gates.
"For I know my master will come"says he,
"and when he comes he will call for me."

The other angels pass him by
As they hurry toward the throne,
And he watches them with a wistful eye
as he sits at the gates alone.
"But I know if I just wait paitently
that someday my master will call for me."

And his master, down on earth below,
as he sits in his easy chair,
forgets sometimes, and whispers low
to the dog who is not there.
And the little dog angel cocks his ears
and dreams that his master's voice he hears.

And when at last his master waits
outside in the dark and cold,
for the hand of death to open the door,
that leads to those courts of gold,
he will hear a sound through the gathering dark,


A little angel dog's bark.
---author unknown

Where would you like to go next?