"If all the beasts were gone,
men would die from great loneliness of spirit,
for whatever happens to the beasts
also happens to the man."

Chief Seattle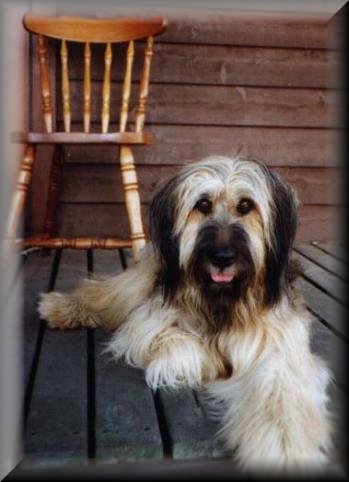 "Marashar Tawny Toffee"
"Summer"
DIED: June 11, 2000
Summer, my shaggy girl, you came into my life
unwanted and with lots of baggage.
Many times I was advised to give up on you,
but there was no way that I could do that to you.
We stuck it out to the end, you and I.
You could never quite give up your baggage,
but you tried so hard for me.
You did progress such a long way,
despite your terrible beginning.

A brief but bright flame
in my life.
Thank you for coming
to teach me so much.

----Ann Jeffree

"The Meaning of Rescue"
Now that I'm home, bathed, settled and fed,
All nicely tucked in my warm new bed.
I'd like to open my baggage
Lest I forget,
There is so much to carry -
So much to regret.
Hmm . . . Yes there it is, right on the top
Let's unpack Loneliness, Heartache and Loss,
And there by my leash hides Fear and Shame.
As I look on these things I tried so hard to leave -
I still have to unpack my baggage called Pain.
I loved them, the others, the ones who left me,
But I wasn't good enough - for they didn't want me.
Will you add to my baggage?
Will you help me unpack?
Or will you just look at my things -
And take me right back?
Do you have the time to help me unpack?
To put away my baggage,
To never repack?
I pray that you do - I'm so tired you see,
But I do come with baggage -
Will you still want me?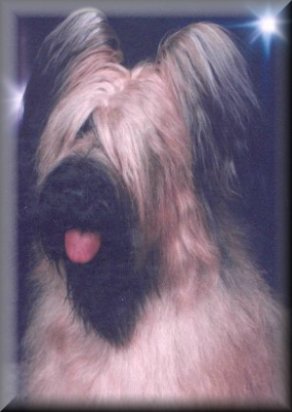 Am. Mex. Ch Kaliphi Jiva de Sonora
"Jiva"
BORN: March 18, 1994
DIED March 4, 2002
Whenever I go outside
I see your hair blowing in the breeze.
After I would groom you,
I would take your hair and place it on the mesquite trees
so the birds could use it to line their nests.
Your hair was like miniature flags
unfurled in the wind.

There were so many times you would just stand still
when the wind was blowing, with your head up high,
as if you could smell everything within miles.
Now your hair will keep some fledgling warm.

As "Grandma", you led a full life, perpetuating your line,
enjoying supervising one last litter of "grand pups".
You were active to the end.
All of this does not lessen the loss, nor the grief of losing you.
I am very thankful that your going was brief and seemingly painless.
Sweet Jiva, your ashes will be buried in the desert
that you loved and for which you were named.
–Jiva is a sanscript word for "Breath of Life" or Spirit".
You were truly the spirit of the Sonoran Desert.

I will see you again over the Rainbow Bridge.....
Loving missed by Kathleen Byerley and Debbie Morrow

"Tribute To A Best Friend"
Sunlight streams through window pane
unto a spot on the floor....
then I remember,
it's where you used to lie,
but now you are no more.
Our feet walk down a hall of carpet,
and mute echoes sound....
then I remember,
Its wher your paws would joyously abound.
A voice is heard along the road,
and up beyond the hill,
then I remember it can't be yours....
your golden voice is still.
But I'll take that vacant spot of floor
and empty muted hall
and lay them with the absent voice
and unused dish along the wall.
I'll wrap these treasured memorials
in a blanket of my love
and keep them for my best friend
until we meet above.
---Author Unknown---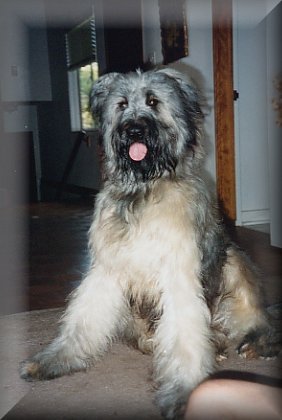 Mon Jovis L Kubla
"Kubla"
BORN: April 4, 1995
DIED: December 29, 2001
Our Dearest Kubla,
From the moment we first saw you,
from the moment we held you as you drew your last breath here with us,
from the moment we're reunited with you at the Rainbow Bridge,
you will always be our first baby.
How we will miss watching your ears move every which way,
each with a life of its own.
How we will forever hear you greet us with your gentle howl,
so happy to see your mommy and daddy when we came home to you.
How we will cherish the memory of you lying down
to both eat and drink and drink and drink and drink.
How we will remember for the rest of our lives
you sleeping on your back between us,
your front legs stretched straight out, as if you were flying.

Our dearest Kubla, we know you are flying now,
running, swimming, and chasing anything that moves
and feeling free of pain.
Not a day goes by where we don't have a happy memory of you,
our beloved man in a dog suit.
Our dearest Kubla,
you will always live in our hearts.
You are now and will forever be our best friend…
We love you,

----John and Mindy Strauss





When I'm gone, release me, let me go....
You mustn't tie yourself to me with tears.
You can only guess how much you gave me in happiness....
Grieve for me a while, if grieve you must
Then let your grief be comforted by trust....
And then when you must come this way alone,
I'll greet you with a lick and bark,
"Welcome Home".
----Author Unknown

Where would you like to go next?