"When a Dog Dies"
When a dog dies, a cloud turns into an angel
and flies up to tell God to put another flower on a pillow.
A Bird gives the message back to the world,
and sings a silent prayer that makes the rain cry.
Dogs disappear, but they never really go away.
They are spirits up there that put the sun to bed,
wake up grass, and spin the earth in dizzy circles.
sometimes you can see them dancing in a cloud during the daytime,
when they're supposed to be sleeping.
They paint the rainbows and the sunsets
and make waves splash and tug at the tide.
They toss shooting stars and listen to wishes.
And when they sing windsongs,
they whisper to us,
don't miss me too much.
The view is nice and
I'm doing just fine.
----Anonymous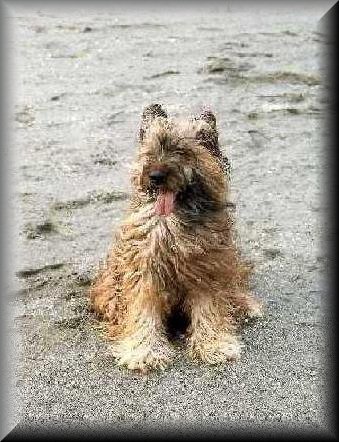 MISHANA of the GLOAMING
"MISHA"
BORN: May 3, 1988
DIED: August 7, l999
Misha, you were the first briard who came into our lives.
Although you didn't spend your whole lifetime with us,
just the last 5 years,
we loved and still love you very much.
In the time you were with us, we had a wonderful time together.
We hope we will see you one day.
Take care up there on the Rainbow Bridge dear friend.
You are very much missed by

...........Tina Vermeiren and Wim Vanwijnsberghe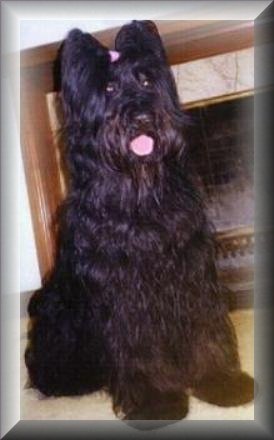 Ulysses du Mas Bel Air
"Grant"
BORN:May 9 1996
DIED: February 17, 2000
....too often we measure life in a "time-sense";
rather than the impact of the life lived.
Grant was, without doubt
the happiest and most exuberantly joyful dog I have ever known.
He found delight in each and all!!!
To those who knew him, his sense of humor was infectious!!!!
He could cajole even the most somber into gleeful antics.
He was adored by so many.
Grant's life was eons too short...
but, thankfully, it was a life lived to the fullest.
May we all be so fortunate.
He will be as well missed as he is well loved.

Sleep well, dog boy.
I love you.
Sadly he will be missed by Elaine Robinson and Sophie(the apartment sized Newfoundland),
Ramona(Elaine's Mom), Liz and Rick Kenitz, and Nichelle Regge

"God's Garden"
God looked around His garden and found an empty place
He then looked down upon the earth and saw your tired face
He put his arms around you, and lifted you to rest
God's Garden must be beautiful, He always takes the best
He knew you were suffering, He knew you were in pain
He knew that you would never get well on earth again
He saw the road was getting rough,
And the hills were hard to climb,
So He closed your weary eyelids, and whispered "Peace be thine"
It broke our hearts to lose you, but you didn't go alone,
For part of us went with you, the day God called you Home.
~Author Unknown~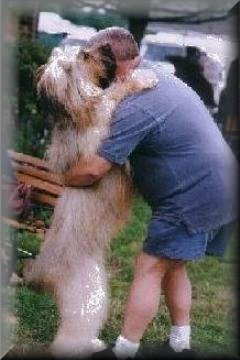 Ch. Mon Jovis Manley's Ruger
"Ruger"
BORN: October 10, 1996
DIED: July 25, 2000
Ruger, you were not just a dog, you were my best friend.
You enriched my life in so many ways.
I am a pretty shy person, and you helped me be more sociable with people.
You were such a great conversation starter,
seems like I could talk for hours about you and never tire of it.
Your presence with me was noticed by many.
It was kind of hard to miss the two of us.
You loved to be held and people loved to see you in my arms.
You brought a smile to many people's faces.
There are many people throughout the Northwest who knew you and will miss you.
You brought joy and love to so many people.
I miss you more than I can express.
You will be remembered by many as a very special dog
who loved me as much as I loved you.
We had a special bond, you and I.
I hope you will be happy until I can come to join you at the "Rainbow Bridge".

With all of my heart I will remember you.
Mark Strever, Mark's parents; Gordon & Vicky Ochs,
Mark's six brothers and sisters; sixteen nieces and nephews.

Where would you like to go next?