The bonds of love between ourselves and our pets
live on as we journey to the other side.
Love bonds, no matter with whom, always continue.

"Talking to Heaven"
James Van Praagh

Une Beau Chien de Brie
"Teddy"
BORN: January 20, 1983
DIED: September 11, 1996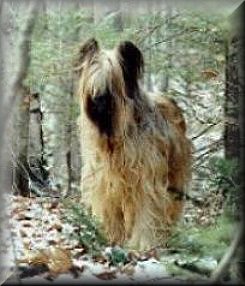 Ch. Belle Petite Genevieve, Am/Can C.D., H.C.
"Jenny"
BORN: February 1, 1986
DIED: May 26, 1996
Should you go first and I remain,
One thing I'd have you do;
Walk slowly down that long, lone path.
For soon I'll follow you.
I'll want to know each step you take
That I may walk the same.
For someday, down that lonely road,
You'll hear me call your name.
Both are Deeply Missed and Forever Loved by Mike & Florence Wise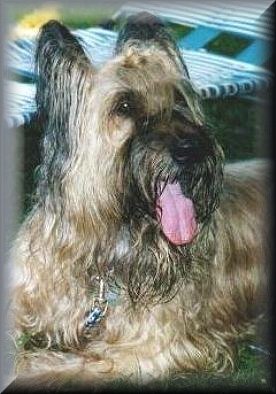 Enjoli Bangles and Bows, TT
"KESSA"
BORN: August 14, 1986
DIED: August 17, 1999
The Best Place to Bury your Dog,
is Deep Within your Heart.....
Loved so much by Pete and Pam Matteson

"HEAVEN'S DOGGY-DOOR"

My best friend closed her eyes last night,
As her head was in my hand.
The doctor said she was in pain,
And it was hard for her to stand.
The thoughts that scurried through my head,
As I cradled her in my arms.
Were of her younger, puppy years,
And oh.. her many charms.
Today, there was no gentle nudge
With an intense "I love you" gaze,
Only a heart that's filled with tears
Remembering our joy filled days.
But an Angel just appeared to me,
And he said, " You should cry no more,
God also loves our Briards,
He's installed a doggy-door"!

--Jan Cooper'95

Where would you like to go next?