"May you see with eyes of light in everdark,
May your mind walk free and unfettered amongst all,
Touching wisely and well,
May you go in peace.
But wait for me, beloved."
----Gayle Greeno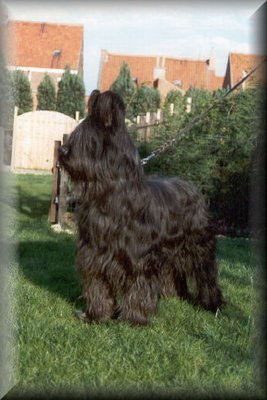 Ch. Ebury Vigo
"EBURY"
BORN: August 23, 1994
DIED: March 4, 2002

On March 4, 2002, in the morning, EBURY left us completely and unexpectedly.
It was much too early for us to lose this dog,
who has made a fundamental contribution to our kennel.
She has parted from us.
She was a very bright dog, always funny, enjoyed her life
and passed these characteristics on to her children.
EBURY was always an exemplary mother.
She came to us when she was already 13 months of age, quite by chance.
We had heard about this girl who needed a new home urgently.
Even though she continues to live on in her children
her farewell leaves a deep emptiness in us
and we will grieve for her for a long time.

EBURY, we will NEVER forget you
and thank you for each day that we could spend beside you.
----Pascale and Ronnie Maes-Baert

They will not go quietly
the pets who've shared our lives.
In subtle ways they let us know their spirit still survives.
Old habits still can make us think
we hear them at the door.
Or step back when we drip a tasty morsel on the floor.
Our feet still go around the place the food dish used to be,
And, sometimes, coming home at night,
We miss them terribly.
And though time may bring new friends
and a new food dish to fill,
That one place in our hearts belongs to them....
and always will.
----Author unknown

Where would you like to go next?