"And God shall wipe away all tears from their eyes,
and there shall be no more death, neither sorrow,
nor crying, neither shall there be any more pain;
for the former things are all passed away"
Revelation 21:4
Ch. Dromore's Perrier, Am/Can. CDX, TD, TT, HC, VT
"Perri"
BORN: August 17, 1979
DIED: June 18, 1994
"To Perri"
I'll miss your glad Good Mornings.
The sigh that said Good Night.
I'll miss your head upon my knee,
Your dark eyes gentle, bright.

You gave me the best you had
To do well in the ring.
I'll miss tracking in the winter
And "Frisbee". starting spring.

You wer a friend beyond compare.
Though you've left us all behind,
I can't let go of memories.
You're gentle on my mind.

----By a friend of Linda and Perri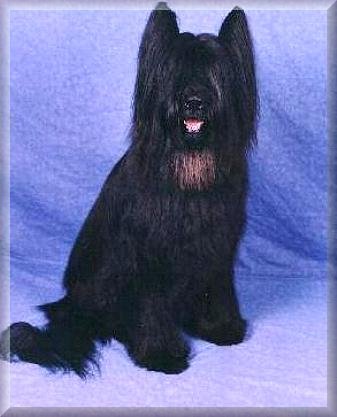 Ch. Janelle's Folic'n Around, CD, CGC, TT, HC
"Cassie"
BORN: February 18, 1990
DIED: February 15, 1999
Both Perri and Cassie are lovingly missed by Linda Beall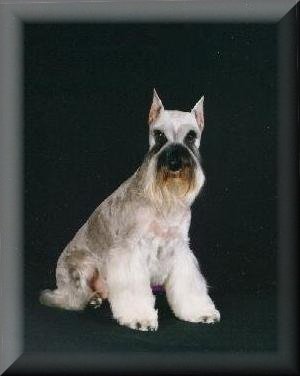 Sim-Cal Personality Pazazz,CDX
"STACY"
BORN: December 14, 1982
DIED: March 1, 1999
Stacey, you were always the low dog in the pack,
as you had to put up with three bossy Briards,
as well as a bossy Poodle and Miniature Schnauzer male.
Two of the Briards came into your life as puppies and bullied you around.
Aah! but you were the watchdog of the house
always alerting the Briards to anyone who ventured our way.
You were smart enough to expect them to protect us which they so graciously did.

---------I will always miss you..... Linda Beall
TO ALL DEPARTED FRIENDS
I stood by your bed last night, I came to have a peep.
I could see that you were crying, You found it hard to sleep.
I whined to you softly as you brushed away a tear,
"It's me, I haven't left you, I'm well, I'm fine, I'm here."
I was close to you at breakfast, I watched you pour the tea,
You were thinking of the many times, your hands reached down to me.
I was with you at the shops today, Your arms were getting sore.
I longed to take your parcels, I wish I could do more.
I was with you at my grave today, You tend it with such care.
I want to reassure you, that I'm not lying there.
I walked with you towards the house, as you fumbled for your key.
I gently put my paw on you, I smiled and said "it's me."
You looked so very tired, and sank into a chair.
I tried so hard to let you know, that I was standing there.
It's possible for me, to be so near you everyday.
To say to you with certainty, "I never went away."
You sat there very quietly, then smiled, I think you knew....in the
stillness of that evening, I was very close to you.
The day is over....I smile and watch you yawning
and say "goodnight, God bless, I'll see you in the morning."
And when the time is right for you to cross the brief divide,
I'll rush across to greet you and we'll stand, side by side.
I have so many things to show you, there is so much for you to see.
Be patient, live your journey out....then come home to be with me.
Where would you like to go next?