"The Creation"
When God had made the earth and sky
the flowers and the trees,
He then made all the animals
the fish, the birds and bees.

And when at last He'd finished
not one was quite the same.
He said, "I'll walk this world of mine
and give each one a name."

And so He traveled far and wide
and everywhere He went,
a little creature followed Him
until it's strength was spent.

When all were named upon the earth
and in the sky and sea,
the little creature said, "Dear Lord,
there's not one left for me."

Kindly the Father said to him,
"I've left you to the end.
I've turned my own name back to front
and called you dog, My Friend."
----Author Unknown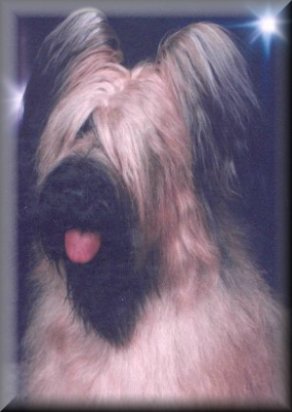 Am. Mex. Ch Kaliphi Jiva de Sonora
"Jiva"
BORN: March 18, 1994
DIED March 4, 2002
Whenever I go outside
I see your hair blowing in the breeze.
After I would groom you,
I would take your hair and place it on the mesquite trees
so the birds could use it to line their nests.
Your hair was like miniature flags
unfurled in the wind.

There were so many times you would just stand still
when the wind was blowing, with your head up high,
as if you could smell everything within miles.
Now your hair will keep some fledgling warm.

As "Grandma", you led a full life, perpetuating your line,
enjoying supervising one last litter of "grand pups".
You were active to the end.
All of this does not lessen the loss, nor the grief of losing you.
I am very thankful that your going was brief and seemingly painless.
Sweet Jiva, your ashes will be buried in the desert
that you loved and for which you were named.
–Jiva is a sanscript word for "Breath of Life" or Spirit".
You were truly the spirit of the Sonoran Desert.

I will see you again over the Rainbow Bridge.....
Loving missed by Kathleen Byerley and Debbie Morrow

"Tribute To A Best Friend"
Sunlight streams through window pane
unto a spot on the floor....
then I remember,
it's where you used to lie,
but now you are no more.
Our feet walk down a hall of carpet,
and mute echoes sound....
then I remember,
Its wher your paws would joyously abound.
A voice is heard along the road,
and up beyond the hill,
then I remember it can't be yours....
your golden voice is still.
But I'll take that vacant spot of floor
and empty muted hall
and lay them with the absent voice
and unused dish along the wall.
I'll wrap these treasured memorials
in a blanket of my love
and keep them for my best friend
until we meet above.
---Author Unknown---

Where would you like to go next?