"When a Dog Dies"
When a dog dies, a cloud turns into an angel
and flies up to tell God to put another flower on a pillow.
A Bird gives the message back to the world,
and sings a silent prayer that makes the rain cry.
Dogs disappear, but they never really go away.
They are spirits up there that put the sun to bed,
wake up grass, and spin the earth in dizzy circles.
sometimes you can see them dancing in a cloud during the daytime,
when they're supposed to be sleeping.
They paint the rainbows and the sunsets
and make waves splash and tug at the tide.
They toss shooting stars and listen to wishes.
And when they sing windsongs,
they whisper to us,
don't miss me too much.
The view is nice and
I'm doing just fine.
----Anonymous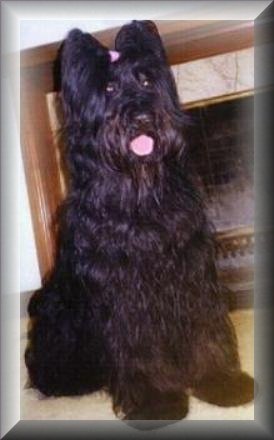 Ulysses du Mas Bel Air
"Grant"
BORN:May 9 1996
DIED: February 17, 2000
....too often we measure life in a "time-sense";
rather than the impact of the life lived.
Grant was, without doubt
the happiest and most exuberantly joyful dog I have ever known.
He found delight in each and all!!!
To those who knew him, his sense of humor was infectious!!!!
He could cajole even the most somber into gleeful antics.
He was adored by so many.
Grant's life was eons too short...
but, thankfully, it was a life lived to the fullest.
May we all be so fortunate.
He will be as well missed as he is well loved.

Sleep well, dog boy.
I love you.
Sadly he will be missed by Elaine Robinson and Sophie(the apartment sized Newfoundland),
Ramona(Elaine's Mom), Liz and Rick Kenitz, and Nichelle Regge

Cdn/Am Ch Bigtree-Bedlam's Hell 'N Black
"Yvette"
BORN: January 1, 1992
DIED: July 20, 2000
My darling Yvette,
letting you go was a very difficult decision for me.
But to keep you here would have only been selfish on my part.
So I had to let you go,
I released you from your pain and suffering because I love you.
I would have done anything in this world if I could have kept you longer.
Now you're free of pain playing & romping in the fields.
I know Melba and Cooper have greeted you with wagging tails.
We miss you my quiet, sweet, black angel.
Gone but never will you be forgotten.
You are always in my heart.
Love Shirley & Doug Tate.

"God's Garden"
God looked around His garden and found an empty place
He then looked down upon the earth and saw your tired face
He put his arms around you, and lifted you to rest
God's Garden must be beautiful, He always takes the best
He knew you were suffering, He knew you were in pain
He knew that you would never get well on earth again
He saw the road was getting rough,
And the hills were hard to climb,
So He closed your weary eyelids, and whispered "Peace be thine"
It broke our hearts to lose you, but you didn't go alone,
For part of us went with you, the day God called you Home.
~Author Unknown~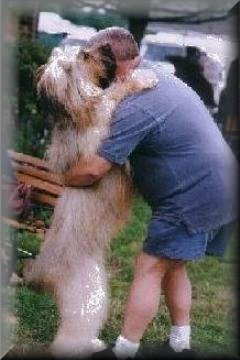 Ch. Mon Jovis Manley's Ruger
"Ruger"
BORN: October 10, 1996
DIED: July 25, 2000
Ruger, you were not just a dog, you were my best friend.
You enriched my life in so many ways.
I am a pretty shy person, and you helped me be more sociable with people.
You were such a great conversation starter,
seems like I could talk for hours about you and never tire of it.
Your presence with me was noticed by many.
It was kind of hard to miss the two of us.
You loved to be held and people loved to see you in my arms.
You brought a smile to many people's faces.
There are many people throughout the Northwest who knew you and will miss you.
You brought joy and love to so many people.
I miss you more than I can express.
You will be remembered by many as a very special dog
who loved me as much as I loved you.
We had a special bond, you and I.
I hope you will be happy until I can come to join you at the "Rainbow Bridge".
With all of my heart I will remember you.
Mark Strever, Mark's parents; Gordon & Vicky Ochs,
Mark's six brothers and sisters; sixteen nieces and nephews.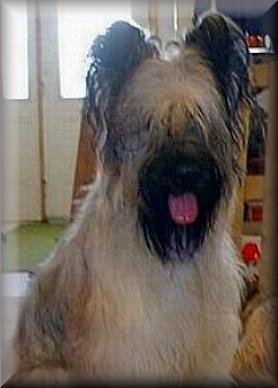 Cdn Ch. Chaotic's Make the Boy's Cry
"Evita"
BORN: Novenber 18, 1996
DIED: November 20, 2000
Evita, your time with us was much too short.
We are devasted with Guilt over the "what ifs" and the "why you?".
My life will never be the same without you, neither will your Dad's.
You were the one who brought us together.
You were and are a very special angel.
We only wish we could have said "Good Bye" to you.
But you were taken too quickly and oh so cruelly.
They say for everything there is a reason, I only wish I knew what that reason was.
Please take care of Melba, Cooper, Little Blue Boy, and Your surrogate Mother, Yvette.
We will meet again.
That is when my heart will be complete again as right now it is crushed
into a million little pieces without you my smiling friend.
I will never get over you!
We Love and Miss you and we always will!!
So deeply Missed, My Darling Sweet Girl.
Shirley Newby-Tate and Doug Tate

"A SPECIAL PLACE"
You have a special place, dear Lord
That I know you will always keep.
A Special place reserved for dogs
When they quietly fall asleep.

A place with fluffy pillows,
A Yard for hiding bones.
With maybe, a little babling creek,
That chatters over stones.

With wide green fields and flowers,
For those who never knew.
About running freely-
Under your sky of Perfect Blue.

Lord, I know you keep this special place-
And so to you I pray
For One Special Briard
Who came to you today.

She will be dearly missed my Lord,
She was the dearest friend of mine
But now she will romp with others,
In your hand that is so devine.

So speak to Evita softly please,
And give her a warm hello.
She is a special gift, dear Lord,

Sleep peacefully Sweet Darling Evita.

Shirley and Doug Tate, who loved her so.

Chaotic's Pop Fly

"Wrigley"
BORN: October 27, 1999
DIED: November 10, 2001
Where do I even begin?
My heart aches for Wrigley.
I constantly expect him to knock at the door to ask to be let back inside.
Everything about the house reminds me of Wrigley.
This is so incredibly hard.
The emptiness that has filled the house and our hearts is at times unbearable.
Wrigley was such a special little boy.
I can't even remember if I ever thanked you for
allowing him to become part of our family?

I keep telling myself that I had two magical years with him
and how lucky we were for them.
I remember when he arrived from buffalo on 12/19/99, picking him up at the airport.
Insisting that Andy and I be at the airport hours before Wrigley was expected
because I wanted to make sure we got to him right away when he was unloaded.
I remember calling you from the airport when we got outside to let you know that Wrigley had arrived.
I have so many wonderful, lovable laughable memories.
I just worry that I will forget them all as time goes by.

Wrigley is Lovingly Missed by his family, Moriah Starbecker, Andy & Vincent Alcarese & Jana.
His Breeder. Shirley Newby-Tate & Doug Tate.

Rest in Peace at the Rainbow Bridge....
We will meet again our beautiful boy!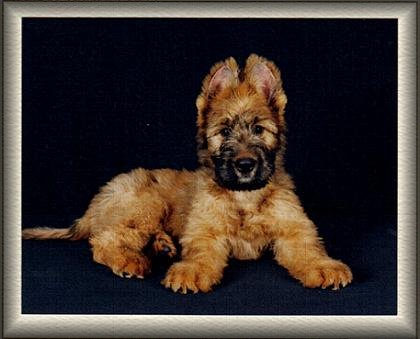 Tambries Chaotics Muge de bria
"Molly"
BIRTH: September 22, 1996
DEATH: January 7, 2000
Molly, Our time together was much too short.
You were my first dog, my first love and my best friend.
I miss our walks and I miss all the talks we use to have.
That big nose and brown eyes
that would look at me and always understand each mood I had.

Until we meet again.
Bonnie Clancy -- Shirley, Doug, Leigh Tate

"Waiting"
I got to the gate of Heaven yesterday
After we said good-bye.
I began to miss you terribly,
Because I heard you cry.
Suddenly there was an Angel
And she asked me to enter Heaven's gate.
I asked her if I could stay ousideI wouldn't make much noise you see,
I wouldn't bark or howl>
I'll only wait here patiently
And play with my tennis ball.
The Angel said I could stay right here
And wait for you to come.
Because Heaven just wouldn't be Heaven
If I went in alone.
So I'll wait for you to come.
Because Heaven just wouldn't be Heaven
If I went in alone.
So I'll wait right here, you take your time.
But keep me in your hear. Because Heaven just wouldn't be Heaven
Without you to warm my heart.


----Anonymous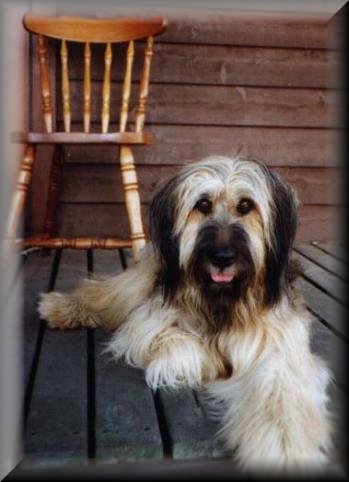 "Marashar Tawny Toffee"
"Summer"
DIED: June 11, 2000
Summer, my shaggy girl, you came into my life
unwanted and with lots of baggage.
Many times I was advised to give up on you,
but there was no way that I could do that to you.
We stuck it out to the end, you and I.
You could never quite give up your baggage,
but you tried so hard for me.
You did progress such a long way,
despite your terrible beginning.

A brief but bright flame
in my life.
Thank you for coming
to teach me so much.

----Ann Jeffree

"The Meaning of Rescue"
Now that I'm home, bathed, settled and fed,
All nicely tucked in my warm new bed.
I'd like to open my baggage
Lest I forget,
There is so much to carry -
So much to regret.
Hmm . . . Yes there it is, right on the top
Let's unpack Loneliness, Heartache and Loss,
And there by my leash hides Fear and Shame.
As I look on these things I tried so hard to leave -
I still have to unpack my baggage called Pain.
I loved them, the others, the ones who left me,
But I wasn't good enough - for they didn't want me.
Will you add to my baggage?
Will you help me unpack?
Or will you just look at my things -
And take me right back?
Do you have the time to help me unpack?
To put away my baggage,
To never repack?
I pray that you do - I'm so tired you see,
But I do come with baggage -
Will you still want me?
----Author Unknown

Where would you like to go next?